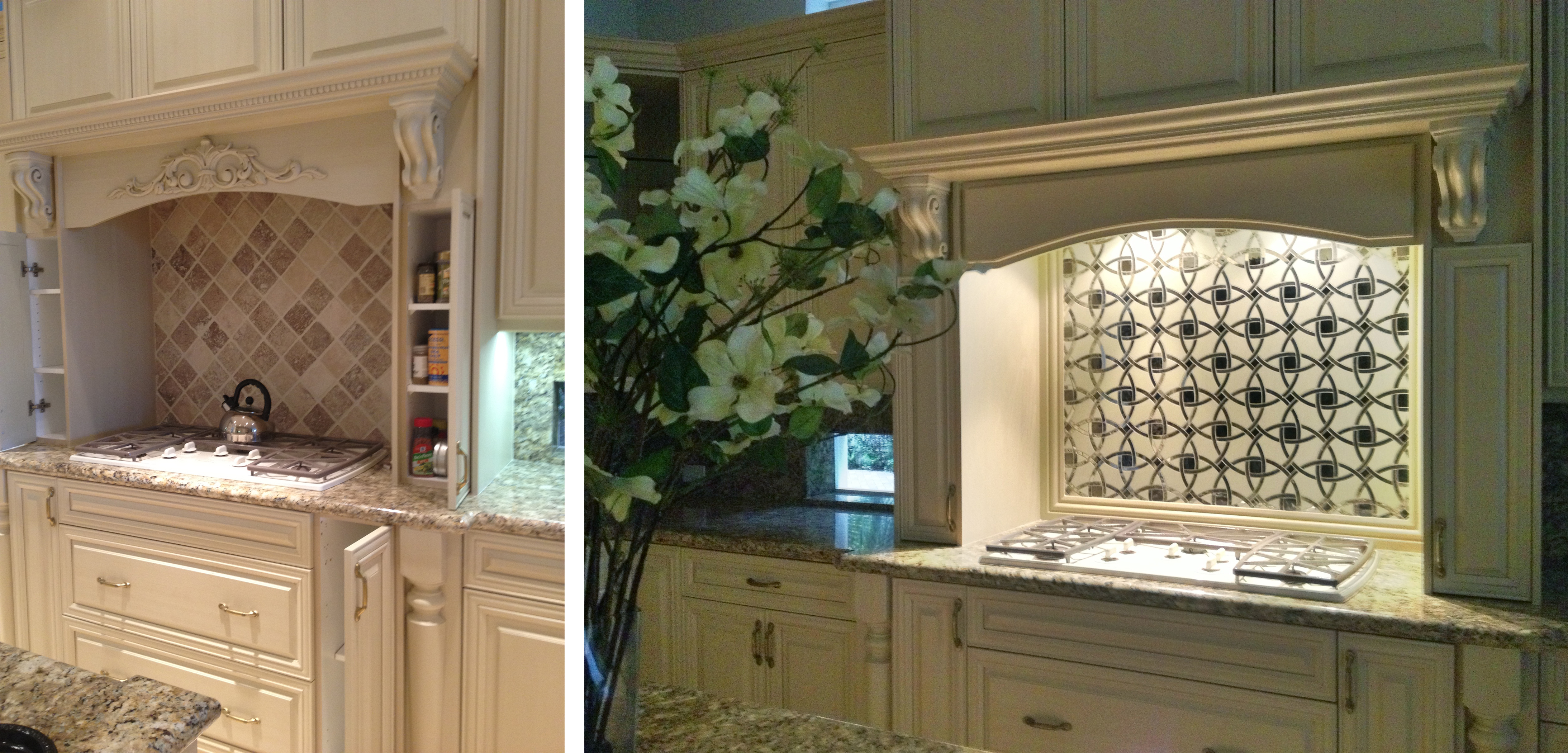 Home Advancement: Stop waiting for the BIG remodel
There comes a time in home ownership that you realize: NOW is just as good a time as any to love where you live.
Maybe you like your house already. Maybe there's a ceiling fan driving you nuts.  You're feeling like your space is a little tired and needs to be refreshed.  Despite the obvious blank-canvas, clean-slate, total-remodel, there are things you can improve without a major overhaul.  More importantly, forever homes are not as common as they once were. You should enjoy where you live while you live there, not when you're getting ready to sell it to the next family.
The thing is, there are home improvements and there are home advancements.  Home improvements stay with the home, like a remodeled kitchen or bathroom.  Home advancements take you from your hand-me-down sofa and position you in a comfortable home theater-style sectional.  Having good furniture, even great furniture, can make you love your home even more. It doesn't fix a leaky faucet or weed-ridden lawn, but your time spent at home can be more comfortable.  As a residential designer and luxury real estate agent, I see the same pattern over an over again: homeowners deal with what they have until they move.
Sooner or later, years, sometimes decades have gone by, and you've realized you never really loved the home you're in.  That's when I receive a call and one or both members of a couple are ready for a change – a major reboot.  While I love getting these calls, home advancement could be a homeowner's ongoing goal.
After years of completing new construction homes and total remodels and refits, I've identified the five essential Home Advancement tips to keep you in love with your family's lasting style.  Home advancement is a matter of deploying these five basic principles as needed, and in no particular order – just as long as they keep you out of the "I hate my house rut."
Manage your inventory:
I begin with inventory because to me it's obvious but often overlooked.  Deleting broken, uncomfortable, or otherwise bad-memory furnishings from your home is like practicing good grammar.  No one necessarily rewards you for your consistent efforts, but the minute something is out of place, everyone notices.
Inventory management helps to declutter and make rooms feel larger and more spacious.  However, if you've been living in your home for a decade without a dining room table, you need to expand your inventory.  Having the best-for-your-family inventory is the key to home advancement.
Your inventory advances as carefully selected layers of coordinating pieces that may stay with you for generations.  When selected appropriately, the styles and finishes expand your repertoire.  Think of cross-functional pieces and the variety of users when purchasing furnishings.  Ask yourself if you are purchasing something that will last until the kids take it to their college apartment.
When high-quality pieces are acquired, they will last.  Reupholstery and refinishing are often an option for inventory advancement.  I meet clients all the time that have a piece they used to love, but it just lost its luster over the years.  When it is worth it, refinish it. Often these loved pieces can get refinished and moved to another residence, like a lake house or cabin in the woods.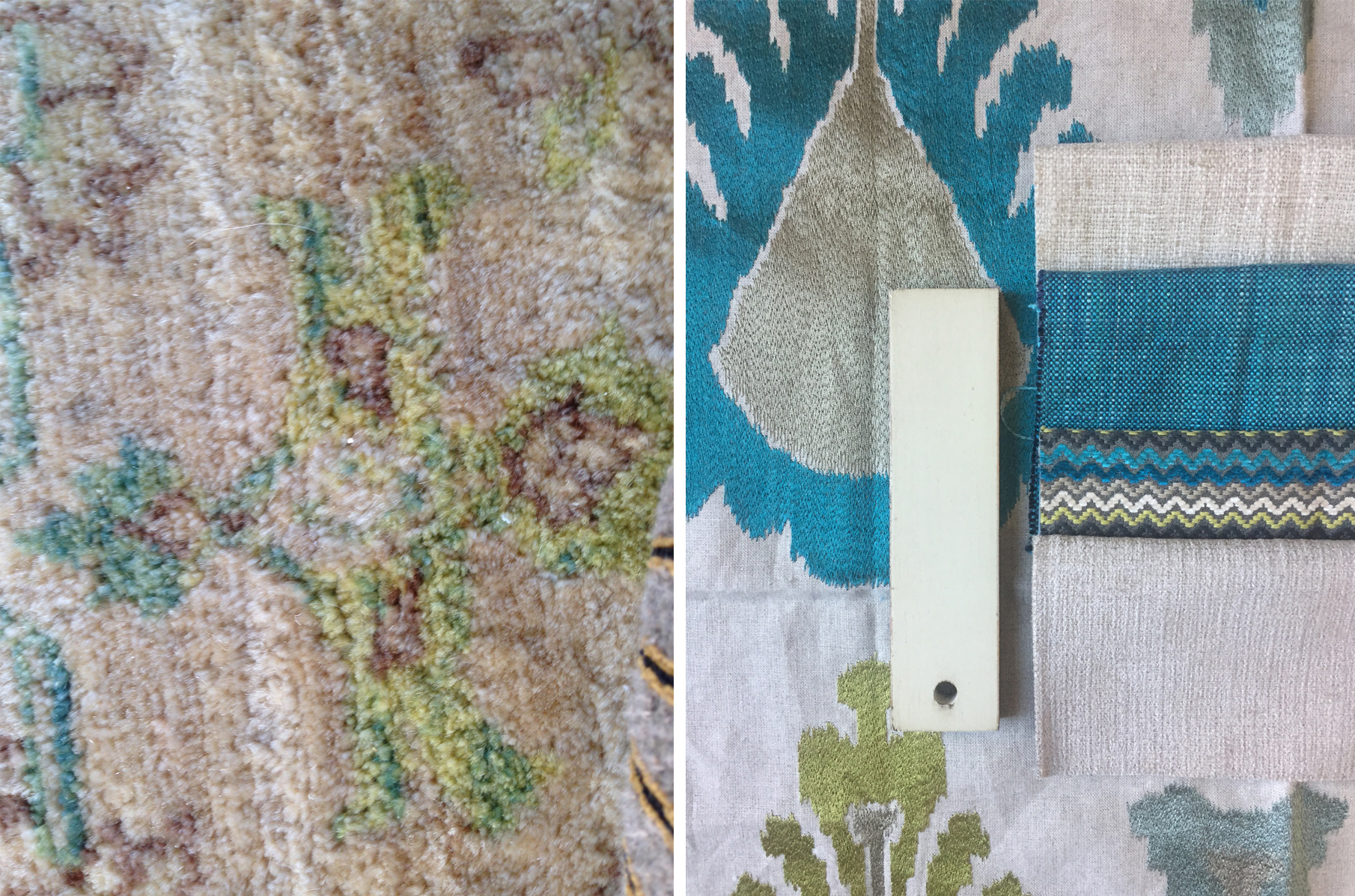 Working with the existing carpeting on this motor yacht (left), the new materials palette (right) was selected to accent the vibrant turquoise and chartreuse colors found in the rug.

Replacing one piece, often a small furnishings item like a coffee table, can often change the overall style of the space.  Here we opted for a simple Parsons style table with ottoman below (not pictured).  These tables make the interior more contemporary in form and add function to the ordinary tables that were replaced.

High-quality furniture with solid wood frames can be reupholstered for a refreshed look.
Build your collection:
Art, memorabilia, portraits, home accessories, and other czhotska's will typically have a story that accompanies their presence in your home.  Perhaps these items were a gift or collected when abroad.  Your collection is uniquely your own and should bring a smile to your face every time it is viewed.  Building a worthy collection is not about purchasing every single Star Wars figurine and poster you find, its about the special pieces that have meaning in your life.
     a. Art: From Picasso to your child's finger painting, frame it or highlight the piece to give it the importance it deserves.  Lighting art is often an essential component to making these pieces shine.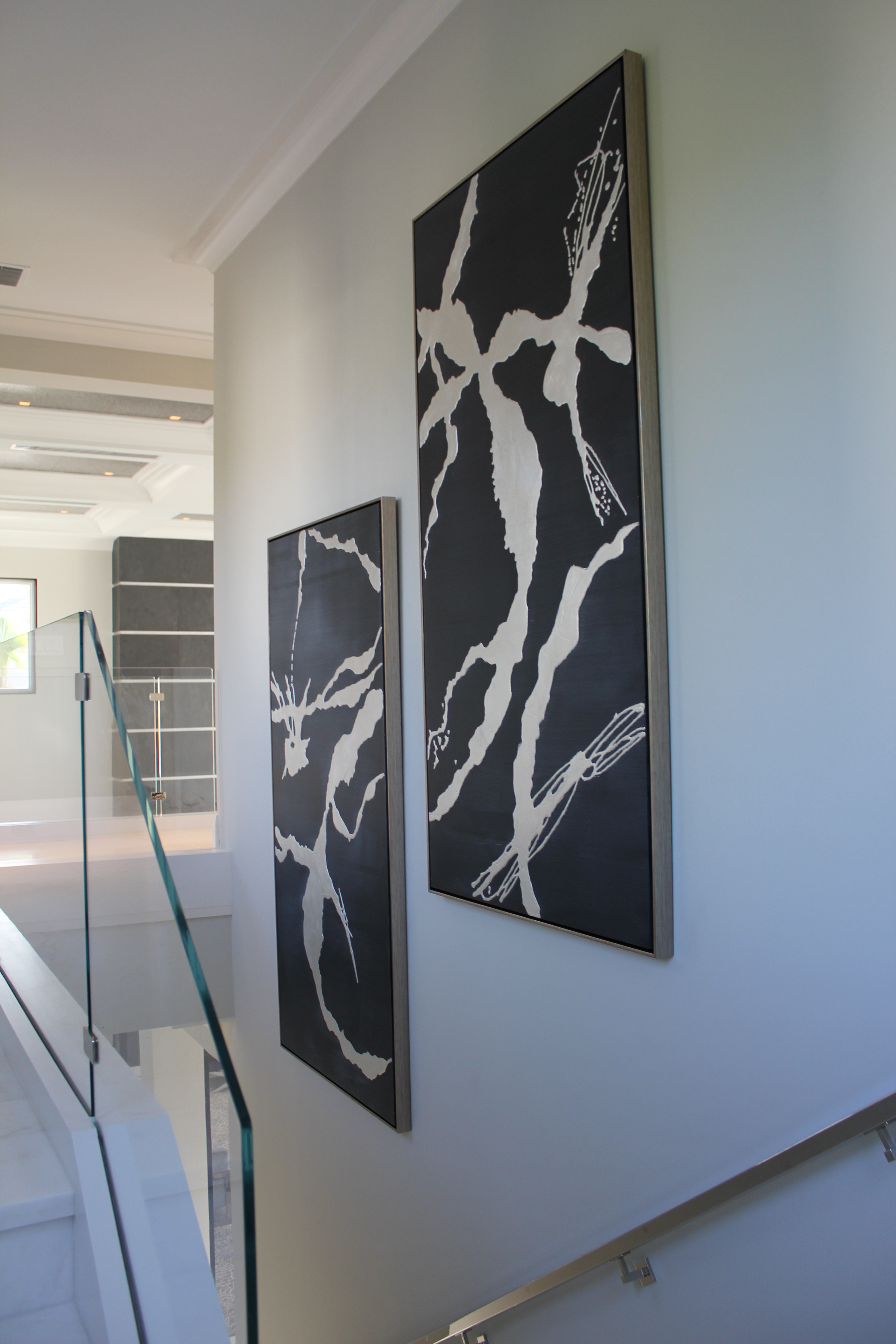 b. Memorabilia:  Signed sports objects, trophies, and the like should be grouped in a space that is themed to have discussions about the subject displayed.  The World Series winning ball shouldn't be alone in the dining room. Keep these items together and create a story for guests to experience while the game is on the background.
     c. Home Accessories: This section may include framed family photos, but broadly, this is anything that isn't necessarily furniture.  Accessories should be layer or grouped in odd numbers.  When displaying a shelf or entry table for example, accessories should be place to draw the eye up in the center of the display. Or, alternatively, the items can be place to balance the surface, with a clear space at center and balanced, visually stimulating objects to either side.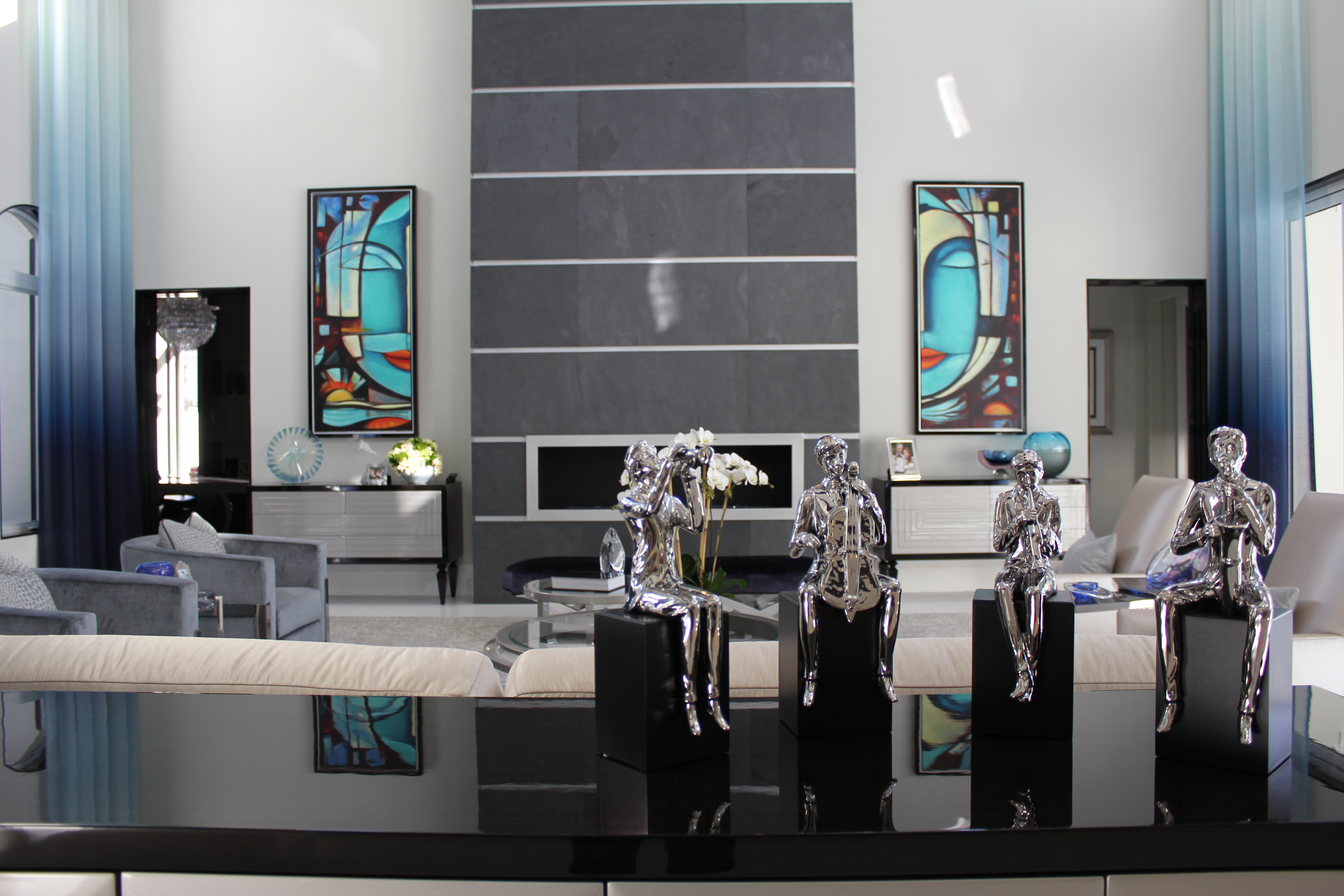 When you reach a level of truly unique and collectable pieces, keeping them visible will raise your level of satisfaction of each item from generic commodity to treasured keepsake.  These pieces begin to shape your personal style, your home's "brand."
Keep your style fresh:
I absolutely hate the idea of being trendy – but sometimes there is just that one thing or color you have-to-have that instant.  Maintaining a neutral inventory allows you to ebb-and-flow with the colors of the season.  Changing pillows, rugs, and other soft furnishings can give you a refined look for a season or even a few years.
While maintaining your inventory, you may begin to collect items that are better suited together in a different room.  Often just redecorating with your own items can really refresh your home's style.  Just remember the three R's for refreshing your home:
a. Keep it Real – don't waste money on something so trendy you'll end up giving it away in a year.  You're establishing your style, think of it as something that sets you apart.
b. Make it Relevant – If you love it, it will never be out of style.  Take some time to evaluate if you will still love it in 3 years, 10 years, or 20 years.
c.  Reinforce it:  Are you passing through a style phase or is it an advancement of your family's overall "brand?"  Often homeowners find a treasure on vacation in a distant land.  While it may be tempting to purchase that Medieval sword and shield, it is always a good idea to have an ideal spot selected for it to hang before taking the plunge.  Items collected over time should reinforce your general style while providing an eclectic mix of coordinated objects.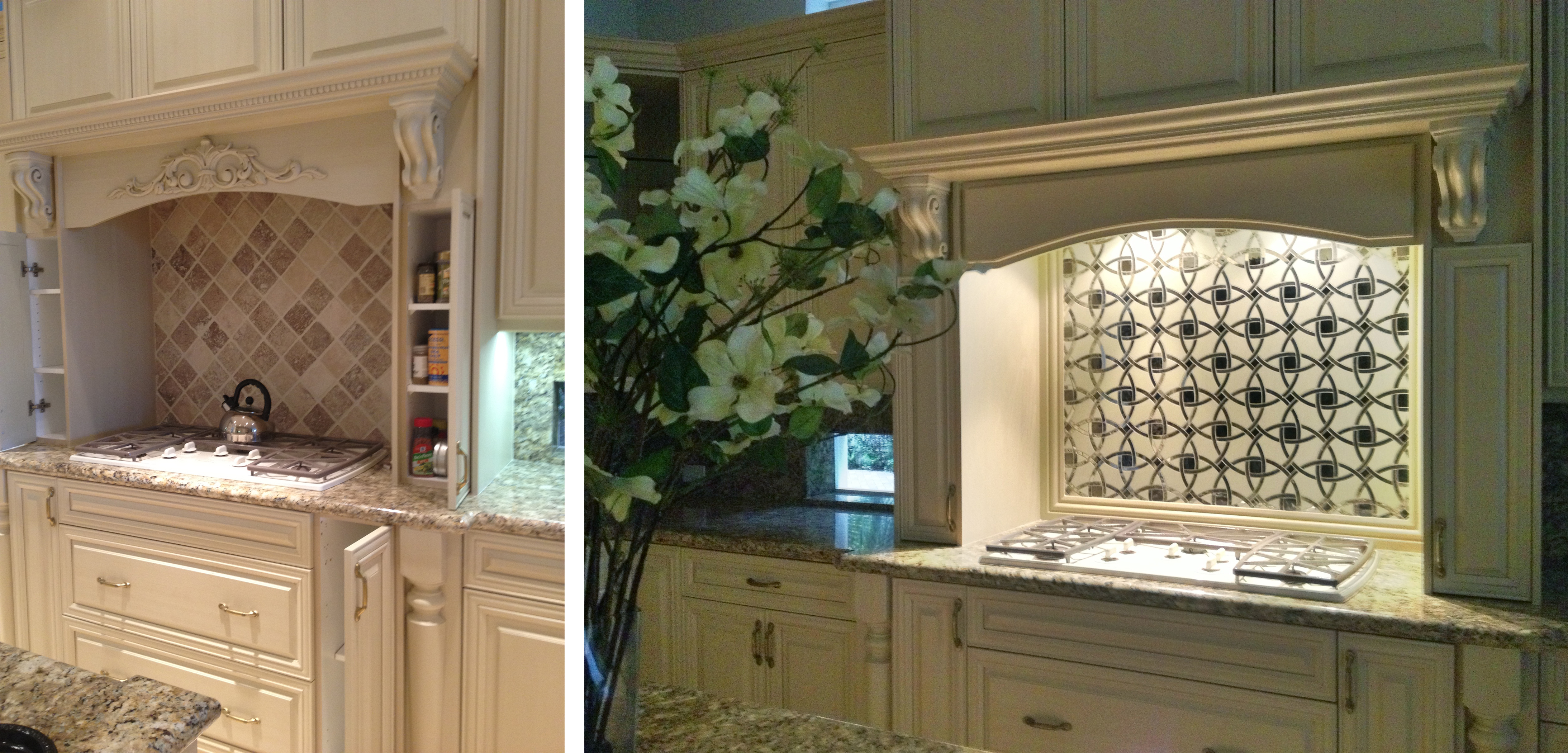 Mini-kitchen makeover: replacing a small section of the backsplash and removing millwork-onlays can really update the look of a kitchen.
Establish your home's presence:
What's the best part about going on vacation? What's the best part of staying away from home? For some people it is the weather.  However, I'm willing to guess it is the lack of stress, clutter, and simplicity that comes with being away from it all.  Take for example packing for a trip.  You only have so many outfits to wear and probably only a few carefully selected shoes.  There is a calm in knowing you're going to look great for whatever you do once you arrive.  The hotel is also a sanctuary of calm and quiet, and perfectly dark for sleeping in.  Whatever your ideal destination is, your home should mimic that environment.
Think of your home as having the "aura" of your ideal place.  This presence is how you assure yourself that coming home from a long day will be the absolute best part of that day.  Before you even walk in the door, you are capable of assuming the presence of home because of the good decisions you've made while making the house your home.  Focusing on the "aura" or home presence will help you maintain the continuous advancement of your home, it is a learned behavior.
You can refine your home's aura by eliminating some bad house habits:
a. Distractions: If something is broken, fix it. Take stock of the distractions and take strides to eliminate them.
b. Sloppiness: Nothing screams hoarder like a disorganized mess.  Keep your home organized.
c. Habits: Routines are hard enough to change when you're on your own.  I know it can be tough to get the rest of the family to break their portion of the household's bad habits. Take a giant leap forward to burst your family's habit bubble.
Act like a designer: 
One thing is certain, everyone has an inner "decorator."  You know what you like and have no problem putting it all together. You're a shopper, meticulously organized, detail-minded, and know scale, proportion, repetition, rhythm, fixtures, finishes, furniture, space planning, lighting, acoustics, bidding and negotiating, and the list goes on…
Truth is, designers, architects, and contractors also rely on talented professionals on nearly every project. Its important to know when to call in the professionals and to work with people you truly trust to make decisions on your behalf. For example, I could do my own taxes, but I hire an accountant to ensure they are done accurately and for my long term benefit.  Relationships like these are wonderful if you can establish them early. Ideally, you'll want to advance with the same core group of professionals, no matter how big or small your project turns out to be.